TRIPOLINO T11
Knitted Tubular Cords
Needle rotary machine for the production of chainette yarn (ROUND TUBOLAR-FLAT TYPE) without core inside.
The thread is placed on the creel, became braked by the tensioners and controlled in case of breakage, then is knitted by the rotating heads and tooken-up by a couple of rolls. The finished product is wound on hanks or on bobbins.
The workable materials are: rayon, viscose, acetate, acrilic, polyester, cotton and polipropylene.
We make standard models of machine from 2 to 20 heads.
The standard creels have from 4 to 40 positions, according to the model of the machine.
DEVICES ON REQUEST
Creel 40 positions on T11-20
Creel 20 positions on T11-10
Creel 10 positions on T11-5
Creel 4 positions on T11-2
Cylinders with various diameters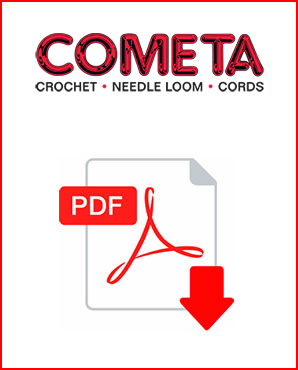 TRIPOLINO T21
Knitted Tubular Cords
Machine with 10 rotative spindles using needles to make knitted tubulars (ROUND TUBULAR—FLAT TYPE) with or without core inside. The core yarn is placed on a creel while the yarn which makes the tubular has to be on small spools placed on the top of the spindle and run with the spindle.
Stop motion device for both core and tubular yarn.
Working speed adjustable from 0 to 1700 r.p.m. and possibility of having soft start and stop.
Final take up on hanks or bobbins.
Workable materials: viscose, acetate, acrilic, cotton, polyester, polypropilene, some small wires, monofilament, lurex, metalrex and other.
DEVICES ON REQUEST
Unloading holes with various diameters